Steward
From ShireWiki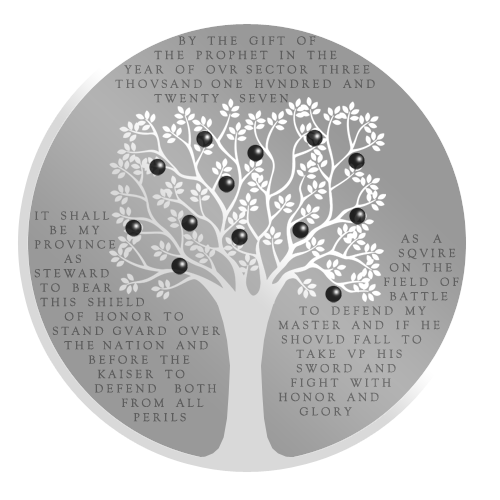 The Steward of the Imperial Republic is the head of the executive. Elected by the Landsraad and thereafter appointed by the Kaiser, the Steward runs the government for a term of three years. He or she appoints ministers and other persons under law. The Steward also has power of decree over a wide range of topics for the imperial dominions and for matters of imperial competency. The current Steward is Waldemar Zinkgraven.
Prior to the enactment of the Carta Ayreonica in 1653, the Steward governed Shireroth whenever the Kaiser was unable to. In 1653, the post of Regent was split off from Steward, and the Steward consolidated permanent government power. Ruling Stewards occurred between reigns of kaisers for various reasons. For example, upon the forced abdication of Kaiser Cedris I (with the designated heir unable to take on the kaisership), Steward Carl Jackson of Novi Nigrad governed until the House of Ashura (which had been tasked with finding the next Kaiser) had presented Kaiserin Rei I to the nobility of Shireroth.
At the Coronation of Hasan I, The Prophet presented to the then Steward Jacobus Loki a "Shield made of dark Silver, with the white-gold inlay of a mighty fruit bearing tree, with black pearls hanging from the branches". The Prophet named this the Shield of the Steward, the Shield of Honor.
The title Steward has existed also in many Shirerithian jurisdictions as a caretaker government title.
List of recent Stewards
See also the List of Stewards.
Before 1653, the position of Steward was not by all kaisers considered a permanent position. Some kaisers appointed stewards only for specific events, other kaisers always had a stand-in steward and tasked him or her with certain business.
Portrait
Personal name
Birth
Tenure
Death
House or bloodline
Kaiser
Note
Fax Celestis
1466
Ari 0
Landsraad
ruling steward in the absence of a kaiser
Nikkolo
1475–1477
Landsraad
ruling steward in the absence of a kaiser
Ari Rahikkala
1483–1484
Aurefiction
Meskan I
as Kantzler
Erik Mortis III
1484–1486
Jadie
Jadie Doran
1486–1493
Mors
Wylþeow
Landsraad
Gregory of Amity
1493–1497
Los II
Raynor XI
Shyriath Bukolos
1497–1502
Raynor XI
Mors IV
Scott of Alexander
1502–1504
Ari i
Shyriath Bukolos
1504–1507
Alejian I
Fax Celestis
1507–1512
Los III
Yarad
Semisa I
Nick Foghorn Leghorn
1512–1513
Letifer II
Gregory of Amity
1513–1514
Letifer II
William Meskan
1515–1516
Alejian II
Malarbor
1516–1518
Alejian II
Baldwin Plantagenet Julii
1518–1519
Alejian II
Gregory of Amity
1520–1524
Carol
Jacobus Loki
1535–1542
Mors V
Hasan I
Harald of Froyalan
1542
Hasan I
Carol of Lumina's Light
1542
Ayreon I
Ardashir Moqtada Osmani
1542–1543
Ayreon I
Oroigawa Koreyasu
1543–1547
Ayreon I
Loki III
Ari Rahikkala
1547–1548
Reynardine I
Oroigawa Koreyasu
1548–1551
Agni I
Leo Dine
1551–1552
Erasmas
Jacobus Loki
1552–1553
Anandja I
Leo Dine
1552–1554
Anandja I
Ardashir Moqtada Osmani
1554–1557
Anandja I
Gaelen III
Malliki Tosha
1557
Aurangzeb
Leo Dine
1557–1560
Aurangzeb
Leto III
Malliki Tosha
1560–1561
Leto III
Ryan of Yardistan
1561
Leto III
Erik Mortis
1561–1562
Malarbor I
Daniel Kalirion
1562–1564
Mors VI
Falkner van der Sluijs
1566–1570
Anandja II
Ikol II
B'Caw
Ometeotl I
Giles Melang
1574–1577
Gaelen IV
Carl Jackson
1577
Cedris
Oroigawa Kitsune
1577–1579
Rei
Jacobus Loki
1582–1584
Reynardine II
Kozhi Rraahan
1584–1585
Loki IV
Carl Jackson
1585–1587
Loki IV
Vilhelm Benkern
1587–1588
Hasan II
Conglacio Swefhert
1588–1589
Ayreon II
Johnathan Nelson Wythe II
1589
Ayreon II
Ari Rahikkala
1590–1591
Wythe
Vilhelm Benkern
1591
Wythe
Shyriath Bukolos
1602–1606
Mira Raynora Mnr
Aiomide
Mira Octavius-Aryani
1606–1608
Aiomide
as Regent
Choygal Kamala
1608–1610
Trantor IV
Landsraad
Shyriath Bukolos
1610–1613
Mo'll
Ryabin Merkayastreb
1613–1614
1614
Mors IV
Died in office.
Stellus Yastreb
1614–1615
c. 1622
Mors IV
Ruling steward after abdication
Ryker Everstone
1589
1615–1617
–
Redquill
Sehml
Succeeded to throne
as Redquill
Mira Raynora Minor
1617–1620
Redquill
Aasmund Vigeland
1620
Isa IV
Executed by Isa IV.
Jonathan Ayreon-Kalirion
1620
Isa IV
Succeeded to throne
as Ayreon III
Jacob Darylion-Verion
1620–1623
Ayreon III
Succeeded to throne
as Verion I
Jonathan Ayreon-Kalirion
Hurmu, 1603
1623–1624
Light, 1629
Ayreon-Kalirion
Verion I
Kizzy Drakland
Demonsfall, 1597
1624–1626
died 1639,
returned 1650
Drak
Daniel III
Succeeded to throne
as Kizzy
Vilhelm Benkern
1626–1631?
Kizzy
Raynor XII
Mira Raynora Minor
1631–1634
Raynor XII
Vacant
1634–1636
Brrapa VII
Hjalmar
Altea Lomax
Tarkyr, 1607
1636–1639
Hjalmar
Yumi Zotrasdóttir
unknown
1639–1642
–
Kviteseid
Hjalmar Redquill
Hallbjörn Haraldsson
Port Nevermore, 1588
1642–1644
Ettlingar Freyu
Dominus
Adam Ayreon-Kalirion
Ardashirshahr, 1630
1644–1645
Ura'Bos, 1650
Ayreon-Kalirion
Waffel-Paine
Aurangzeb II*
Noor
Jailed by Noor.
Daniyal Dravot
Normark, 1559
1645–1647
Modan-Lach, 1657
Noor
Altea Lomax
Tarkyr, 1607
1647
Noor
Isabella Simrani-Kalirion
Ribat al-Eluinshahr, 1603
1647–1648
Ayreon-Kalirion
Ayreon-Kalirion
Noor
Kyle Kilynn
Demonsfall, 1617
1648–1651
Demonsfall, 1656
Drak
Waffel-Paine
Noor
Ayreon IV
Liv Dravot
Shirekeep, 1615
1651–1654
Ayreon IV
Waldemar Zinkgraven
Dietsland, 1590
1654–1657
Zinkgraven
Ayreon IV
Elected.
Mira II Octavius-Aryani
c. 1617
1657–1663
Shirekeep, 1663
Octavius
Ayreon IV
Elected, 1657
Reelected 1660
Died in office
Hartmut Aldric (Acting)
Zolt, 1613
11.I.1663–21.IV.1663
?
Ayreon IV
Acting Steward following
the death of Mira II Octavius-Aryani
Hartmut Aldric
Zolt, 1613
21.IV.1663–12.VIII.1667
12.VIII.1667
Ayreon IV
Elected, 1663
Reelected, 1666.
Ryker Everstone (Acting)
1589
12.VIII.1667–21.XI.1667
?
Ayreon IV
[Acting steward following
the death of Hartmut Aldric
Soraya II of Octavius-Parini
1617
21.XI.1667–
?
Ayreon IV
Elected, 1667
Elected, 1670