Waldemar Tarjeisson
From ShireWiki
Waldemar Tarjeisson
Full Name: Waldemar Tarjeisson Einhorn
---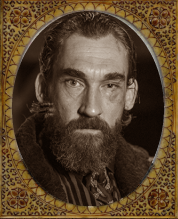 ---
Physical Description
Gender: Male
Species: Human
Race:
Norse
Hair Color and Style: Chestnut brown hair. Full beard
Eye Color: Blue
Skin Color: White
---
Biographical Information
Father:
Tarjei Einhornsson
Mother: Mira Mikelion-Verion
Date of Birth: 1590
Place of Birth: Slevik, Normark
Date of Death: n/a
Place of Death: n/a
Current Residence(s):
Lywall
Nationality at Birth:
Normarker
Current Allegiance(s): State of Modan
Imperial Government (Formerly)
Lordship of Blackstone (Formerly)
Occupation: School Inspector
Eldest son of Prince Tarjei of Elwynn. Brother to Thorgils and Hans Tarjeisson. Notably failed to attain high office in the Imperial Service in spite of the best of corporate and dynastic connections. Settled for an obscure life in provincial postings throughout Western Benacia. Sat as Treasurer on the Council of Ten, the governing body of Blackstone (1638–1650). Imperial Resident in Kasterburg (1657–1666). Inspector of Foundation Schools in the Governorate of Lywall, a retirement sinecure (1666–).