Hans Tarjeisson
From ShireWiki
Hans Tarjeisson
Full Name: Hans Tarjeisson Einhorn
---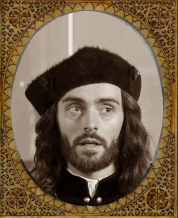 ---
Physical Description
Gender: Male
Species: Human
Race:
Norse
Hair Color and Style: Chestnut brown hair. Full beard
Eye Color: Blue
Skin Color: White
---
Biographical Information
Father:
Tarjei Einhornsson
Mother: Mira Mikelion-Verion
Date of Birth: 1595
Place of Birth: Slevik, Normark
Date of Death: n/a
Place of Death: n/a
Current Residence(s):
Blackstone
Nationality at Birth:
Normarker
Current Allegiance(s): None, Suspected Jingdaoese affiliation
Occupation: Barrister
Hans Tarjeisson Einhorn (born 1595) is Norse lawyer, most famous for being the defence barrister in the trial of Abdullah al-Zaraqi.
Hans Tarjeisson was born in Slevik, Normark (now in Stormark), as the youngest child of Tarjei Einhornsson and Mira Mikaelion-Verion. He has two living brothers, Waldemar (born 1590) and Thorgils (born 1593). From his father's earlier marriage with Ingrid (died in 1573), Hans Tarjeisson has a sister, Sigrid (born 1567), and a diseased brother, Amund (1565–1620).
He emigrated to Elwynn in 1608 along with several other displaced Norsemen, among them his brothers Thorgils and Waldemar. In 1615, he moved to Kildare to study law, where he graduated as a qualified barrister in family and criminal law in 1620.
It is now believed he lives in Jingdao and sympathises with the regime there.