Naian Waffel-Paine
From ShireWiki
Naian Waffel-Paine
Full Name: Naian Moonoak the Evergreen of Waffel-Paine
Alias Naian Loneoak the Bastard
---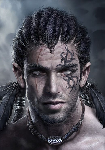 ---
Physical Description
Gender: Male
Species: Human
Race: Mehl, Hazel
Hair Color and Style: Black hair
Eye Color: Black
Skin Color: White
---
Biographical Information
Father:
Nathan Waffel-Paine
Mother:
Guinevere Moonoak
Date of Birth: 1588
Place of Birth: Great Hazel Woods, Flaventia
Date of Death: 1644
Place of Death: Moonoak Thicket, Tarsica
Current Residence(s): Lindstrom
Nationality at Birth:
Natopian
Current Allegiance(s):
Natopia
Occupation:
Emperor of the Natopians
Naian Moonoak the Evergreen of Waffel-Paine (1588–1644), was born Naian Loneoak and went by the name Naian the Bastard while being raised in an orphanage in Oakham, Natopia. He is the son of Guinevere Moonoak and Nathan Waffel-Paine, their union a result of tree-magic allowing Guinevere to seduce and bear a child with Nathan. Guinevere died in childbirth, cursing her son and refusing to give him the maternal family name. Nathan had no knowledge of Naian's existence until Naian was rediscovered by Hazel Druids. After the destruction of the Great Hazel Woods, Guinevere's soul was used to replant the Woods on Tarsica, where she was able be at peace. She claimed Naian as her son, allowing him to be called Naian Moonoak the Evergreen, a title he used as Emperor of the Natopians.
He succeeded to the throne following his half-brother Nathaniel Ayreon-Kalirion. Naian has one daughter, Asara Waffel-Paine.
Ancestry
Ancestors of Naian Waffel-Paine
16. ??
8. Owardde Sheep-herder
17. ??
4. Ædwynn Shepherd
18. Paine
9. Ædelayde Paine
19. Frances
2. Nathan Waffel-Paine
20. John
10. Hilding Of The Linden-covered Stream
21. Clara
5. Jaynae Lindenstream
22. Leo
11. Mona Von 'Fel
23. Zava Sin'felo
1. Naian Moonoak
24. ??
12. ??
25. ??
6. Llyr Timberpine
26. ??
13. ??
27. ??
3. Guinevere Moonoak
28. ??
14. ??
29. ??
7. Rowena Moonoak
30. ??
15. ??
31. ??