Siyacha
From ShireWiki
Siyacha Free State

150px
Feudal Status:
Imperial Protectorate
Capital:
Nackholm
Largest Cities:
n/a

---

Local Leadership Title:
Nāśī (Prince) & ha'kohen ha'gadol (High Priest)
Local Government:
Theocracy under Imperial protection
Current leader:
Adin ben Shmuel

---

Local language:
Yehudi
Local Religion:
Siyachism, Qara'ut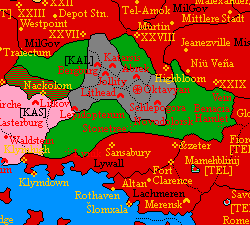 Siyacha, or the Siyacha Free State is an imperial protectorate in western Benacia established in 1660 by Imperial Decrees 1020 and 1021. Inhabited mainly by Yahudim, population in 1660 was x (of which y were citizens, z were denizens, n loyal subjects, and k community servants).
History
1638 - "Jollification of the Kossars" sees Volhyria and Porolia invaded by Minarborian forces, leading to the establishment of the Shophate of Siyachia.
1640-1644 - "Harvestfall Revolution" sees Minarboria begin its abrupt decline.
1648 - Final collapse of Minarborian aligned regime in Siyachia.
1649 - Pachad Emet ben Mavet asserts control over what remains of "Nackolom".
1656 - Batavian settlers, fleeing the War of Lost Brothers, enter the Inner Benacian Green. Skirmishes with Yehudi inhabitants ensue.
01.VIII–14.XI.1657 - 1st Battle of Nackholm (Operation Way of Force).
19.VIII.1657 - The Kasterburg Republic occupies the southern half of Nackholm.
15.IX-25.IX.1657 - Battle of Stuyven between Batavian settlers and the Yehudi.
08.VIII.1659–06.XIII.1659 - Fall Schwartz-Tilman.
24.VIII.1659 - 2nd Battle of Nackholm.
22.XIII.1659 - August Baerdemans, and a small band of armed followers, enter the ruins of Nackholm and proclaim it the capital of the Transbatavian Free State.
22-29.XIII.1659 - Seven days and seven nights of air-raids on Nackholm by Bomber Command.
22.XV.1659 - Resolutions to protect Former Subjects in Inner Benacia and establish the Imperial Nackholm Observation Mission proposed by Imperial Mother in the Landsraad, supported by the N&H Party in Folksraad.
12.I.1660 - Recommendations by an international boundary commission favour Shirerithian proposals to occupy Nackholm.
14.II.1660 - Imperial Decree 1020 (Border Adjustment) & 1021 (Institutions in Siyacha) promulgated.
17.II.1660 - Fall Grunwald-Ulrich begins.
18.II.1660 - Adin ben Shmuel, a renegade Bergburger Kohen, is ordained as Prince and High Priest of Siyachia, under Imperial supervision, at a ceremony in recently occupied Heyburgh, where a Red Heifer was rendered unto Yahweh as a burnt offering with crimson dyed wool, hyssop, and cedar wood. The ashes were passed into the custody of the Prince as a symbol of his duty to conduct the purification of Nackholm.